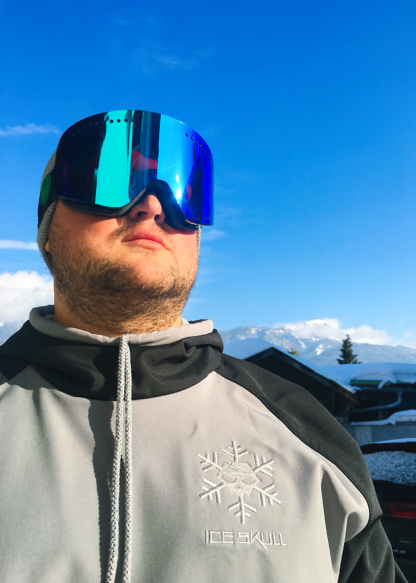 Hi, my name is Bartosz Wójcik and I am the founder of the IceSkull brand. My wife Justyna, who is responsible for creative work, helps me with this job.
The idea for the IceSkull brand was born in my head at the beginning of 2017. I had to fall on my head at night, because in the morning I got up with the idea that it would be nice to make snowboarding hoodies by myself. But not just any hoodies, I wanted to make snowboarding technical hoodies that would stand out due to their design and functionality.
I wanted to use the waterproof and breathable softshell fabric as a base for a typical hoodie because it is usually used in light jackets, but their style didn't suit me completely and I dreamt of creating a hoodie using the waterproof properties of softshell fabric in the style of classic snowboard hoodies.
Early ideas, works and sketches appeared in mid-2017. After finding suitable suppliers of fabrics, but it was not until January 2018 that the first samples of our branded softshell hoodies, consistent with the original idea, were made after many tests, failures  and corrections. I have to admit that the road was difficult, but the final result exceeded my expectations and I hope you will like it too.
In our products we focus on the quality of workmanship, our hoodies are sewn by hand in small batches in Poland, every detail is closely inspected. The main thing we focused on was the freedom of movement, so our hoodies have a relaxed fit, allowing you to move freely while riding, and additionally allow you to wear body protectors such as a back protector or elbow protectors.
The hoodies are made of waterproof and breathable softshell fabric with fully taped seams (double taped) for an extra waterproof protection. We are constantly thinking about using better fabrics and adding new features.